I'm embarrassed to start a piece with such an overused line as "we are in the midst of an opioid crisis," but sometimes a cliche is a cliche because its truth is beyond dispute. So, yes, let's start by acknowledging that we're in the midst of such a crisis, and one that's particularly dangerous for our kids. Overdose deaths among U.S. teenagers nearly doubled in 2020, the first year of the COVID pandemic, and rose another 20% in the first half of 2021 compared to the decade before the pandemic. The 2021 CDC Youth Risk Behavior Survey laid bare the grim reality ahead of us: 6% of high school students misused prescription opioids within the past 30 days. That's over 900,000 students.
This is an emergency. A group of kids about the size of the population of Austin is in the grip of life-destroying chemicals, yet our political leaders remain conspicuously mute on potential solutions. This is particularly frustrating because there's a promising approach to helping kids recover from addiction to opioids and other substances: recovery high schools (RHSs).
These schools are designed for students in recovery from substance use disorder or co-occurring disorders. RHSs recognize that each student must be on an active journey of recovery. The staff supports them every step of the way, with administrative personnel, teachers, substance misuse counselors, and mental health professionals all working together to create a nurturing environment.
Recovery high schools work. A study in the National Library of Medicine found that, after a year, 55% of RHS students reported three months of abstinence from alcohol and drugs, compared to 26% of their counterparts in traditional schools, with urine analysis corroborating these numbers. RHS students boasted graduation rates 21% to 25% higher than their peers, and every dollar spent on these programs yields a societal return of $3 to $7. The study has limits primarily due to the small sample size, but other studies have shown similarly positive results.
Despite these promising results, there are only 45 of these schools in the entire country. In a political climate unmarred by dysfunction and distraction, RHSs would be showered with deserved attention. Yet, beyond a smattering of articles and documentaries, these programs languish in obscurity and financial neglect.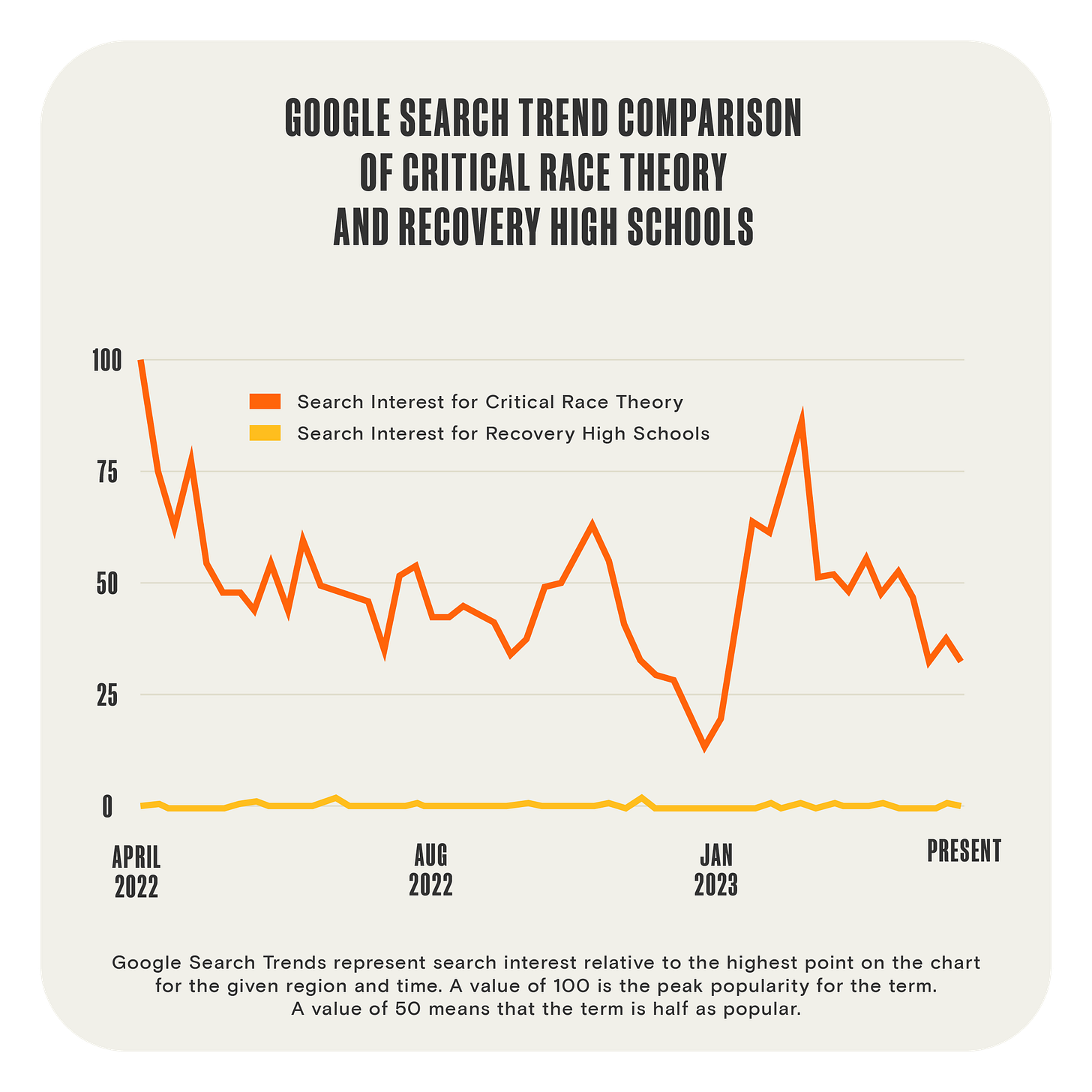 This is precisely why we devoted a portion of last Tuesday's Lost Debate episode to highlighting these schools. We spoke with two Massachusetts RHS principals: Ryan Morgan of Independence Academy in Brockton and Michelle Lipinski of Northshore Recovery High School in Beverly.
Our conversation covered a vast expanse of topics, but three central tenets of these institutions resonated with particular clarity:
The understanding of addiction as an illness, not a moral failing, means schools prioritize treatment over retribution.
A refusal to overpromise acknowledges that recovery is a lifelong process that transcends short-term objectives.
The voluntary nature of the programs places the onus of participation on the students rather than external forces.
RHSs are typically small, facilitating crucial one-on-one interactions between students and adults. This intimacy is paramount, as a poorly executed program could inadvertently exacerbate the issue by clustering students with shared addictions.
As one might expect, these programs come with a heftier price tag than their conventional counterparts, and dedicated funding remains elusive. Lipinski proposes congressional action to establish a robust funding stream to expand these schools and to consider revising the Individuals with Disabilities in Education Act to accommodate recovery school funding through traditional special education mechanisms. This seems to be a straightforward, sensible course of action—a chance for politicians in the nation's capital to demonstrate that the opioid crisis is not simply a pretext for finger-pointing but an opportunity for unity and meaningful action.
Listen to the full episode here.