This article originally appeared on Imbroglio. Imbroglio is a newsletter from The Branch about how we bring about the education revolution. Most of our posts will focus on the future of K-12 and higher education, but we'll also cover the imbroglio itself — the politics, misdirection, the excuse-making, the mediocrity. Occasionally we'll also meander into the general science of learning outside of the traditional education system.
---
I recently had coffee with an NYC teacher friend who casually mentioned that, at her school, they "don't do summer training." "How could that be?" I asked. "You mean you just don't do enough training? What are we talking about here? A week of summer professional development?" "No," she said. "We come in for a day or two to set up our classrooms and attend administrative meetings."
I thought she was exaggerating, but it turned out she was right. This is how NYC public schools allotted time at the start of the 2022–2023 school year:
August 29: administrators return
September 6: teachers return
September 8: students return
During the entire school year, there are only four full professional development days, not including external training that teachers arrange to keep up with their certification.
Let's assume that the average school day is six hours long. In a 180-day instructional year, the typical student spends around 1,080 hours, or 64,800 minutes, in school. That means an NYC teacher is given a little over one minute of dedicated in-school professional development for every hour a student spends in the building.
This is a recipe for disaster and almost without comparison in the professional world. College basketball teams, for example, often train for up to eight weeks before the start of the season, and college football teams are allowed 25 practices before their first game (and you'd better believe that the most competitive teams are taking advantage of each one of those practices). Imagine one of these teams taking to the field or court after only two days together. They'd be a mess. Engineering 180 strong school days is much more complex than anything we ask of these sports teams, yet, we don't give our educators anywhere near the amount of training time we give our athletes.
Today, it's fashionable to decry the deprofessionalization of teaching. For liberals, the problem is poor compensation; for conservatives, it's a lack of accountability. For a brief moment, the compromise was to increase compensation for greater accountability.
We should add a third variable to the mix, which should be less polarizing: the time we spend on training, planning, and collaboration—all critical ingredients of any flourishing profession. That's why I'd push for a different compromise: increasing teacher pay in exchange for an additional thirty days of teacher training. That may seem like a lot, but the average private sector employee works 260 days a year and the average public sector employee works slightly less than that. Even with the extra thirty days, teachers in most cities would still spend far below the average hours at work.
What would I do with this training time? Consider what I did when I was principal at Nashville Prep.
---
I like to visualize the school year in terms of entropy. As the year begins, entropy is low, with schools in a relative state of calm and order. With time, entropy tends to increase as students push boundaries, and teachers get worn out as their trust dissolves and pressures mount.
Summer training at Nashville Prep was an entropy inhibitor—an opportunity to develop relationships that would endure under pressure, to learn and practice skills that would lead to calmer and more consistent classrooms, and to plan for contingencies that would otherwise take us off track. By taking time out over the summer to plan ahead, we also gave teachers and leaders a head start so that they spent less time crafting curriculum and lesson plans in the first few weeks and more time troubleshooting the unexpected. I'd then sprinkle full-day staff development days throughout the summer to serve as refreshers, allowing us to get together to let off some steam and reset, retool, and reconfigure our systems and techniques.
As I look back at my time at Nashville Prep, I believe that our summer training was our secret sauce—the design element that allowed us to achieve results such as the following after just one year:
Highest math, science, and social studies TCAP scores of all open-enrollment public schools (district and charter) in Nashville (in our grade level)
Highest reading growth of any public school in Nashville
Math scores that exceeded those of Williamson County, the highest-performing county in Tennessee
Recognition as the "Most Innovative School of the Year" by the Tennessee Charter School Association
In our first few years, we were ranked the highest-performing charter school in Tennessee, according to both the state's value-added metric and Stanford's CREDO.
Here are a few critical design elements of our training program:
Schedule: While school typically began in the first week of August (the South tends to start earlier), the typical teacher started training in the first week of July, giving them an entire month of training. In addition, we had eight to ten staff training days throughout the school year, and we ended the school day three hours early every Friday to train and plan together. And all this didn't include the external training our teachers did, often through Teach for America, the New Teacher Project, or local colleges, such as Lipscomb.
Here's Nashville Prep's third summer training camp agenda: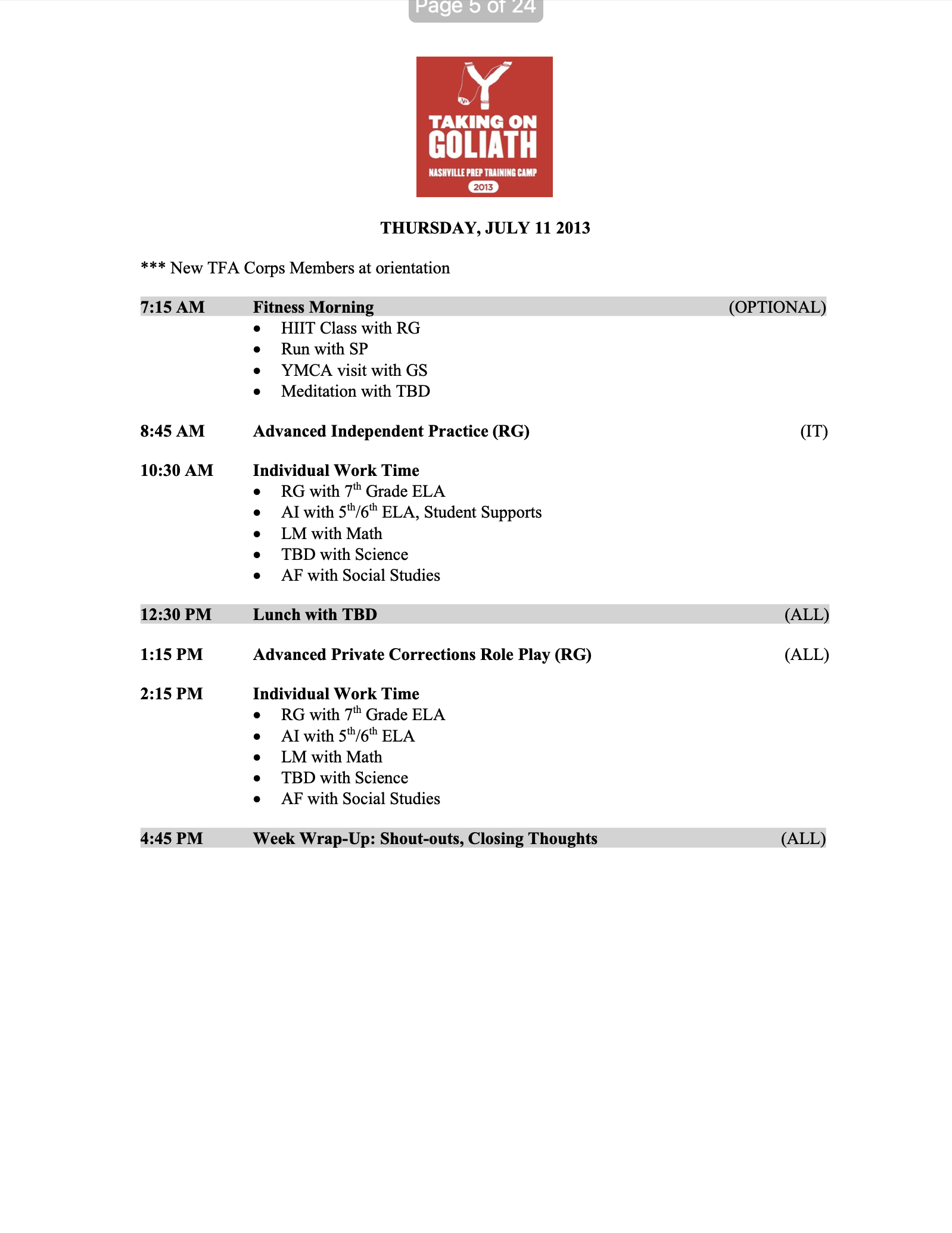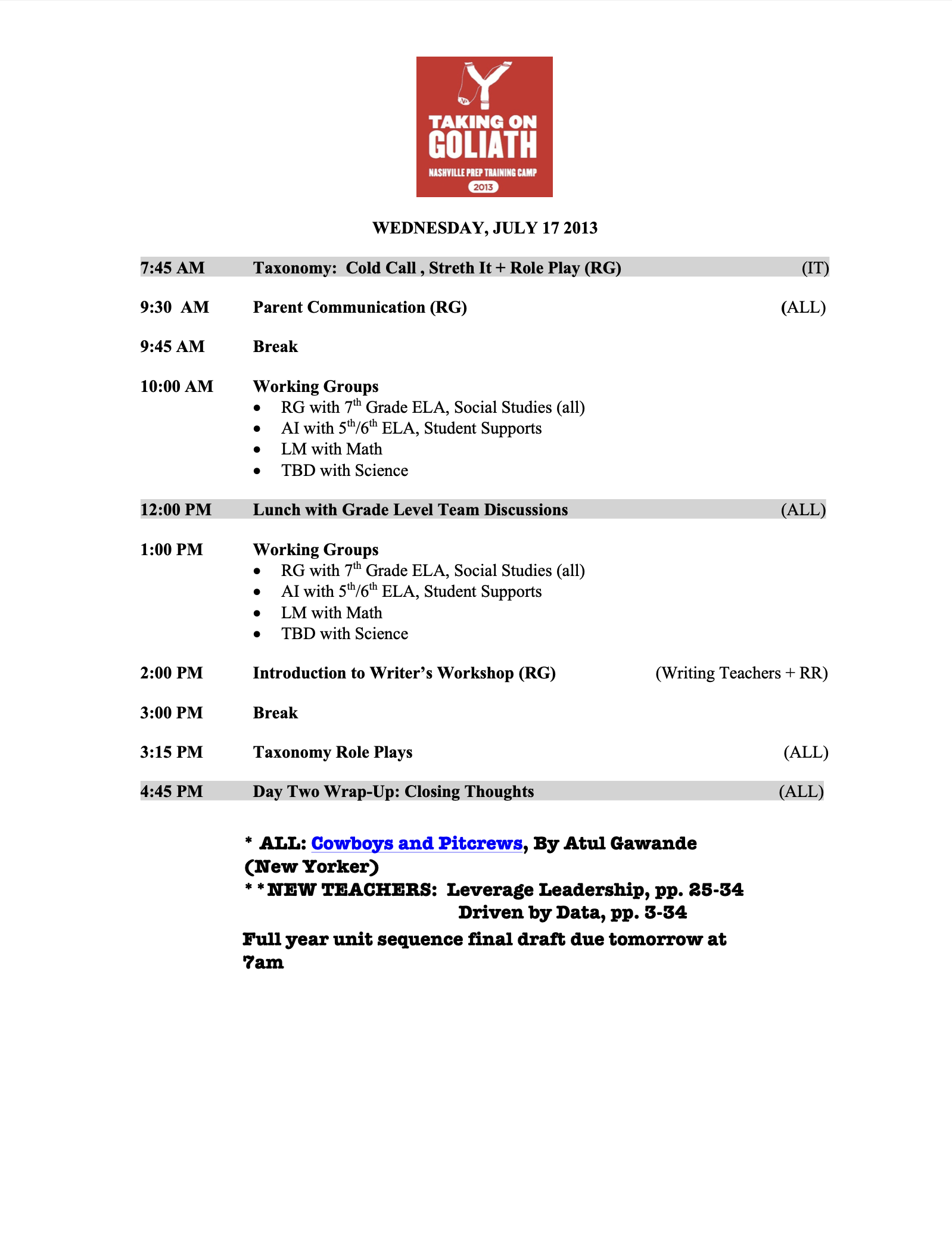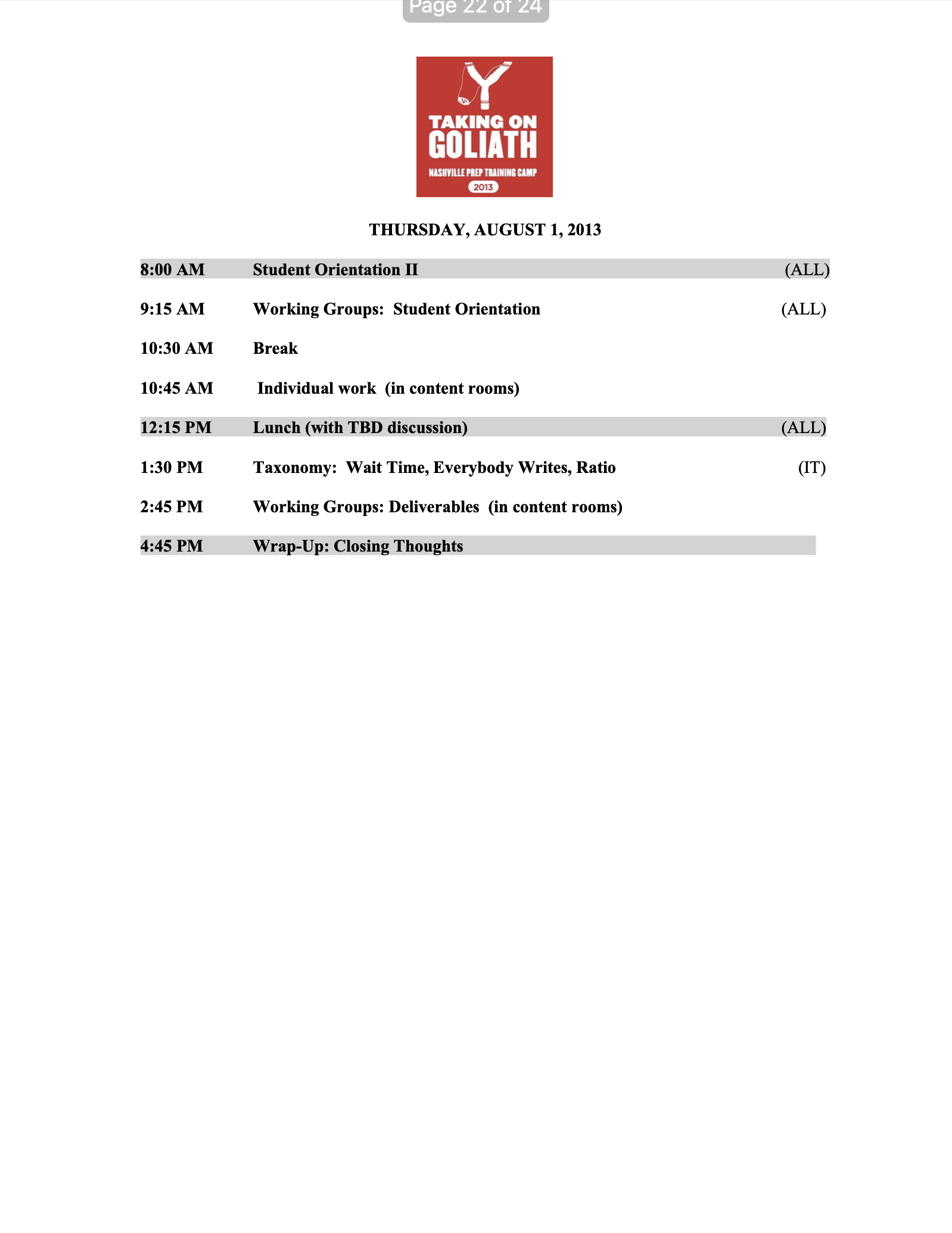 We split our time between various types of sessions:
Mission and vision setting: We started our training by discussing why we had created our school, why we had set ambitious goals for it, and why we believed that we could achieve them. We layered in examples of other professionals (both within and outside education) who had overcome the odds to do great things. We also mixed in meetings with key stakeholders in the neighborhood we served, who spoke about their hopes and dreams for our school.
Teaching techniques and practice: We used videos gathered from excellent teachers nationwide (mainly through Doug Lemov's workshops and materials) to level-set the instructional moves that every team member was expected to master. We watched videos of great teachers using the technique, discussed its nuances, and then relentlessly practiced it. Our practice started with drills (often two teachers practicing the same technique together), and then we worked our way up to full-group mock classroom practice sessions in which teachers taught their first week's lessons to the others, who pretended to be non-compliant students. As you can see from our schedule, we had spent over half our time practicing techniques by the final two weeks of the training camp. Teaching is a lonely profession, and I found that teachers loved these sessions because they were fun opportunities to showcase their skills to each other.
Systems and operations: Inspired by Excel Academy in Boston (perhaps the most systems-driven school I've ever seen), we geeked out on every aspect of student life. We fine-tuned our procedures and operations from the mundane to the complex. During the first two summers, we developed reliable systems for the following:
A tutoring program that allowed us to create unique student–teacher pairings each day in response to data from the day before
Student transitions and the setup and takedown of classrooms in the school building, which functioned as a night school for college students the minute we left the building (we rented space from Tennessee State University)
Daily student progress reports that included up-to-date behavioral and academic information for families (this was before the time of the fancy apps that allow such reporting to happen seamlessly)
Academic planning time. Initially, we had to build our scope and sequence and design our curricula and assessments. We were a small team, so teachers were heavily involved in the process and had deliverables throughout the summer (see below for that schedule of deliverables from the first summer)
Team bonding: Over time, we became much better at offering less-structured activities, such as optional group workouts, team dinners, and book clubs. These were often the highest-rated sessions each summer.
Time with students and their families: During our summer training camps, we held our parent orientation events, which gave our teachers time away from the pressures of the school year to develop the critical teacher–parent relationship. We also ensured that a team member visited every family home (or held a meeting in the neighborhood if families didn't want us to come to their homes). Though our Director of Family Outreach, John Little, and I handled most of these visits, nearly all teachers went on at least a few visits each summer. During these visits, our team members talked to parents and kids about their expectations and goals for the school year and reviewed key school policies and practices.
Adult culture: We dedicated time to drilling down on professional norms—and practicing them. Teachers performed role plays in which, for example, a colleague approached them to gossip about another colleague, insulted a student or parent, or showed a lack of integrity in their work.
Throughout the first few summers, I learned several important lessons:
It's tough to lengthen the training period after you've launched. Colleagues with established schools who tried to extend their summer training were met with much staff resistance. While it's worth powering through such resistance, I advise you to err on the side of extended training if you're starting a new school. You won't regret the extra time, and even if you do, it's always easier to take the days away later than to add them if you undershoot.
Differentiate the duration of the camp based on teachers' experience. If teachers had already attended one of our summer camps, they could come in a week later than the rookies, shortening their summer camp to three weeks from four (this is what the NFL does with its rookie minicamps).
Principals, give yourself time to plan ahead. Over time, I started taking off the final month of school so that I could return in June with a full tank of gas (while almost everyone else is still completely off). This gave me an entire uninterrupted month to plan training camp. The side benefit of this approach is that it allowed my second-in-command to develop leadership experience during a fun time of year (post-state testing, heavy on field trips and field days).
Create themes. Taking a page from Phil Jackson, each summer camp has a theme. For example, our second summer was "Better," meaning that although our results were great, we knew that we could do better (and a reference to the book by that name by Atul Gawande). For our third camp, "Taking on Goliath" was our theme, as we had started to get some pushback from some powerful forces on the school board and in more affluent neighborhoods, which were beginning to feel threatened by charter schools. We aligned our readings with the theme and even created special logos and T-shirts.
Summer training only works if you have a strong vision. As much as I believe in long and excellent summer training, it only works if the school leader has a strong plan and the authority to carry it out. I've talked to many teachers over the years who've been dragged into weeks of chaotic and unhelpful summer professional development by principals constrained by either union contracts, district bureaucracy, or a lack of intention.
Finally, through a fellowship with Building Excellent Schools, I had the good fortune of spending a year traveling the country, before we opened the doors to our first school. I visited dozens of high-performing schools and networks—such as Uncommon Schools, the Sci Academy, and the Excel Academy—and begged, borrowed, and stole ideas from them as we built a vision for our first summer training camp.
About eight years ago, I began hearing that many successful school networks were starting to shorten their summer teacher training in the interest of teacher sustainability. Over recent years, many of these leaders have told me they are experiencing a little buyer's remorse: they long for the days when they had the time to build a shared sense of excellence before students set foot in the school building. This is especially true of the post-lockdown days, when many schools feel compelled to reset their systems and culture but don't have the time to do so. This makes me sad.
If I were a funder or a policymaker, I'd prioritize reversing this trend.